"It's always difficult to find the perfect partner for your project. Often, these projects are stressful and financially draining, so having a supportive team is a must."
That is what one of our recent partners had to say on Clutch. They were not happy with their current website and turned to us for help. After having frustrating experiences with other companies, we were able to understand their needs and deliver exactly what they wanted. We met with them to determine their pain points and goals. Then we came up with a solution they are very happy with.
When we finished migrating their website from another platform to WordPress, they gave us a perfect five star rating on Clutch.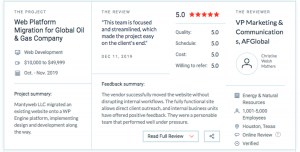 Clutch is an online resource that provides detailed case studies and reviews for top B2B companies and service providers like us. They verify and interview clients each vendor has worked with, so buyers can trust the reviews are real.  That isn't always the case on review sites.
Even though all review sites aren't as diligent about ensuring the reviews are valid, reviews play an important role in digital marketing. Reviews are important both for driving traffic and for getting new customers. Most people these days search the Internet to find the goods and they services they want to purchase. Most of the people searching for goods and services on the web (especially younger buyers) read reviews before they make a purchasing decision. That is especially true for local businesses. In fact, 86% of consumers read reviews for local businesses, including 95% of people aged 18-34 (Source 2019 Bright Local Survey).
Not only are reviews important for local businesses, but displaying reviews on your website can more than double your conversion rate.  When reviews are displayed on a site with lower-priced products, the conversion rate increased 190%. On websites with a higher-priced product, the conversion rate increased even more, 380%. (Source Spiegel Research Center).
Happy clients tend to lead towards good reviews. So, a good starting point is to run a business that makes your customers happy. Then make sure to let them know which review sites you have a presence on. It will help you the same way it helps us and our clients.
If you need help showing up in local search, be sure to give us a call or fill out a contact form. And you can read more of our Clutch reviews here.